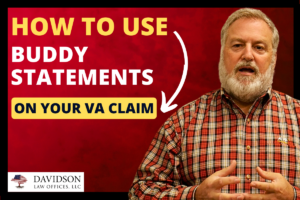 Veterans Affairs
In this blog we're going to be talking about buddy statements and how important they are when submitting VA disability claims. We'll definite a buddy
Read More »
Our Elder Law Blog provides updated information for the ever-changing landscape of legal rules and issues regarding seniors, special needs persons, disabled persons, and veterans. Dale will share any upcoming changes in the field of elder law as well as any upcoming opportunities for seniors or veterans.
We'll also use this forum to post relevant news stories pertaining to elder law and estate planning. As regulations and restrictions are modified over time, we want you to be aware of those changes so that you can plan accordingly. If new laws or changes in current laws create additional funding opportunities for your and your family, we want you to know!
Dale will additionally use specific case study examples to provide real-life examples of elder law and estate planning. This will hopefully help our clients and potential clients to understand all the necessary details of a well-rounded estate plan and how to prevent the government from depleting your assets if you should require long-term care.
We want to ensure that you and your family are comfortable in your later years. By providing continual education in the fields of estate planning, special needs, planning, wills and trusts, we can hopefully help you understand the importance of planning early to ensure a favorable outcome.
If you'd like to see our Elder Law Blog in video format, please visit our YouTube channel. Be sure to SUBSCRIBE and hit the bell notification button so that you're notified each time we release a new video. If you have any comments or questions on any particular video, you can put those in the comments section and we'll be glad to help.